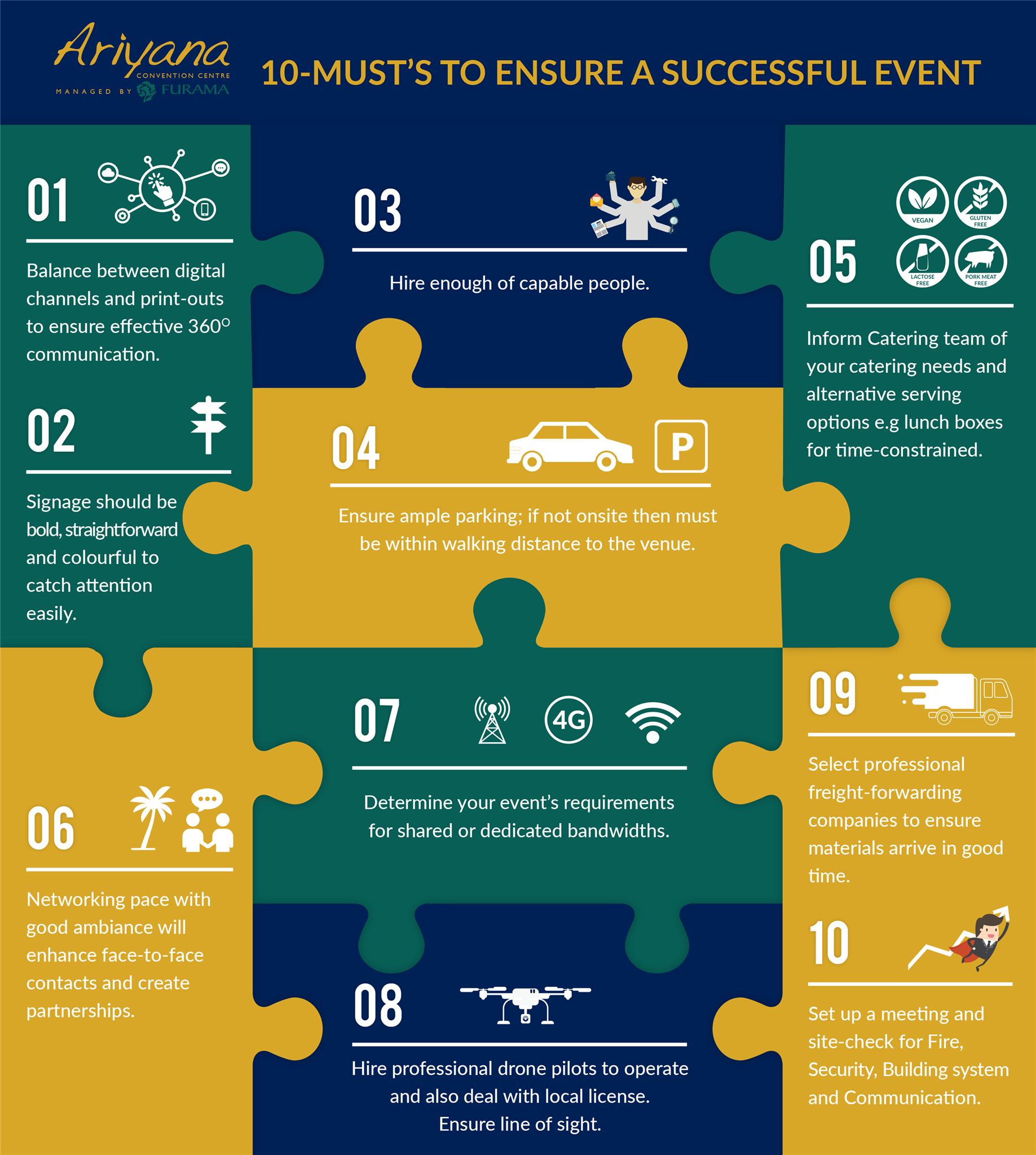 Update – Share – Communication your Event agenda for 360-degree navigation.
Consider a balance of digital and print-outs to ensure event attendees' will not miss out their sessions.
Signage is key: Bold, simple and colourful signages will help catch attendees' attention and help them to navigate better
Hire enough people, capable people: Manning is important – hostesses and event staff
Choose a venue with ample parking, otherwise adjacent, within walking distance to the venue.
Communicate your needs with the Catering team so the venue can help take care of it and you can focus on other stuff:
Dietary, beverage refills, refreshment breaks and menu choices including alternative options e.g lunch boxes for time-constrained sessions
Space for networking:
Events are opportunities for attendees to make face-to-face contacts and create partnerships.
Networking areas should be outside of the meeting rooms, with laid-back settings with either high-tables, armchairs and can even be outdoor too – much better.
What are your wifi needs: web-based or 360-degree livestream, online training or broadcasting, QR-coded check-in or VR
Understanding this will determine shared or dedicated bandwidths.
Use of drones: hire professional pilots to also help deal with local laws license but also ensure the venue offer ample ceiling limits and line of sight (lighting and free of obstructions).
Deliveries and shipment:
Select professional freight-forwarding companies to handle your import tax, clearance of papers to ensure materials arrive in good time. Work out your arrangement for shipping and storing at the venue.
Crisis Management:
Set up a meeting and site-check for Fire, Security, Building system and Communication with the Venue.